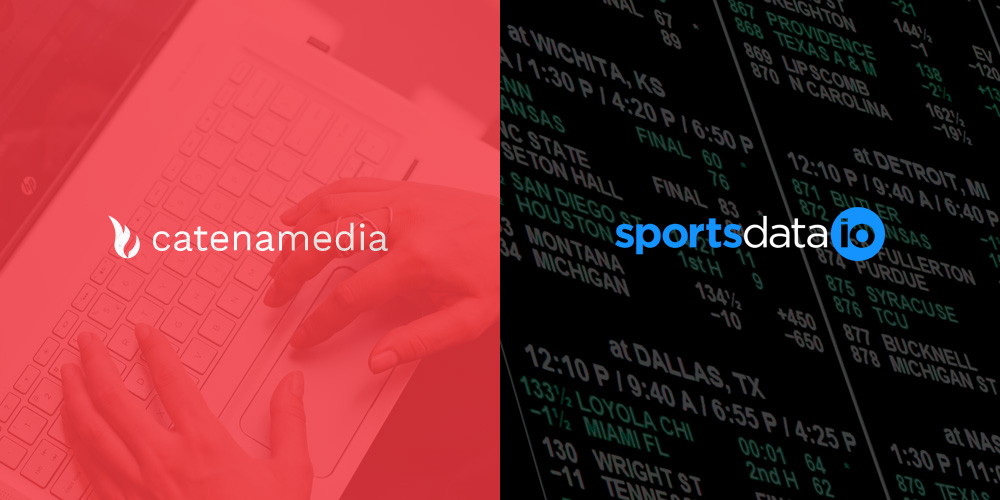 SportsDataIO, Catena Media Reach 10-Year Agreement For Data Delivery
---
10-Year Agreement For Data Delivery Reached
SportsDataIO, a leading provider of Sports, Odds and Fantasy data that power applications across a wide range of industries recently signed a 10-year extension with Catena Media. SportsDataIO's data will be used to power Catena's suite of high-quality lead-generation applications. Catena Media currently operates popular sites like Lineups.com, TheLines.com, Playpicks.com in addition to a portfolio of other regionally focused sites.
The new 10-year agreement between the two organizations expands upon a smaller scale agreement signed in 2019. In May of 2021 Catena Media made the historic acquisition of Lineups.com for 39.6 million dollars. This acquisition enables Catena to continue their rapid expansion into the U.S. market.
"As part of our acquisition of Lineups.com we recognized the need to utilize a data provider with the scale and capabilities to support our efforts across all brands in the rapidly expanding US market," Ryan Murphy, VP of of North America said. Ryan continued, "after a successful pilot with SportsDataIO we found them to be best suited to facilitate our growth. From the ease of use of their APIs to their agility as a technology provider we were confident that as we tightened our foothold on the US market SportsDataIO would be able to meet our growing needs into the future."
Dustin Sullivan, VP, and Co-founder of SportsDataIO added "We're thrilled to be working with a globally recognized brand like Catena Media. Their ability to innovate and provide high-quality lead generation tools in the iGaming space aligns perfectly with SportsDataIO's goal of being the leading data provider across industries and vertices. Our sports and gaming feeds have been designed to specifically power applications in the iGaming space as well as the media and technology sectors. The advances we make to our technology thanks to this relationship will benefit all of SportsDataIOs clients now and in the future."
Catena Media reported operating revenue of $49.8 million in Q1 of 2021. In 2020 the entirety of the US gambling industry was estimated to have brought in nearly 2 billion USD in revenue and is expected to grow at a compound rate of nearly 20% until 2026 when every state is expected to have legalized some form of gambling.
About SportsDataIO
Originally branded as FantasyData LLC, the company was founded in 2008, and has grown to become a leading sports data company, providing real-time feeds across all major sports to both the fantasy and other industries. SportsDataIO covers all markets across all major sports and competitions.
Starting in 2013, SportsDataIO made a push into the global sports data market by launching new sports and more comprehensive coverage. Today, they provide general content feeds and industry-specific feeds custom tailored for sports betting, fantasy and fan engagement for all major professional and college sports, golf, NASCAR, top domestic & international soccer leagues and esports.
Headquartered in Philadelphia PA, SportsDataIO is privately held and debt-free, servicing more than 200 clients globally from betting to fantasy and beyond.
About Catena Media
Catena Media has a leading position within online lead generation. The company has about 400 employees in the US, Australia, Japan, Serbia, the UK, Sweden, Italy and Malta (HQ). The company is listed on Nasdaq Stockholm. Further information is available at www.catenamedia.com.
STAY IN TOUCH
Sign up for SportsDataIO's newsletter and get awesome content sent to your inbox.
We'll never share your email address and you can opt out at any time, we promise.
---

Barry Golombek is a born and bred Philadelphian who has spent his entire life rooting for the Phillies, Sixers, and Eagles. Prior to joining SportsDataIO Barry managed Biz Dev for multiple Software Development Agencies. He is focused on provided key insight and white-glove service to his clients and wants to be seen as a partner in his clients' growth. When he's not slinging data Barry enjoys spending time with his wife and 2 sons (who have no choice but to root for all things Philly) and relaxing with his dog and 2 cats.