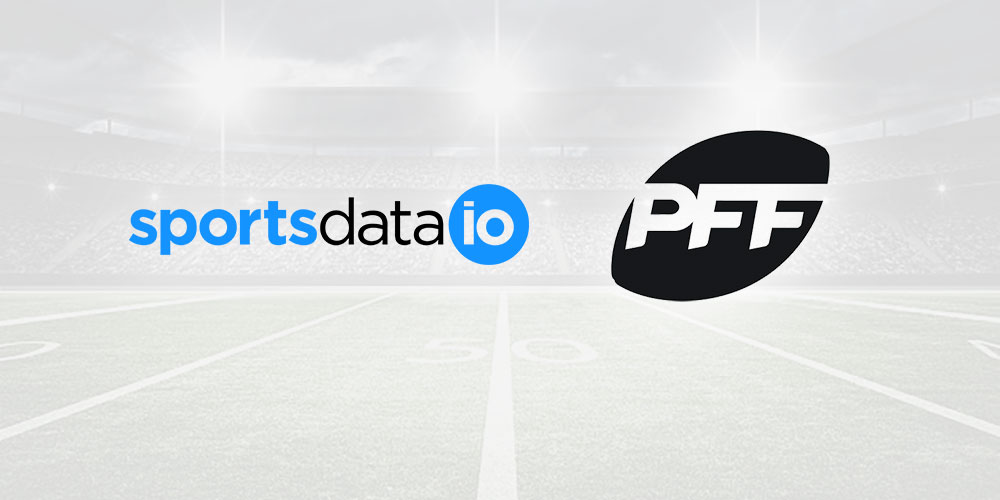 Exclusive Relationship: SportsDataIO to Provide Stats and Odds For Pro Football Focus
---
SportsDataIO Enters Exclusive Relationship With Pro Football Focus to Provide Statistics and Odds Data
SportsDataIO, a leading provider of Sports, Odds and Fantasy data that power applications across a wide range of industries, recently signed to be the exclusive provider of Statistical and Odds data to Pro Football Focus (PFF). PFF, best known for its proprietary player grading and its best-in-class data and analytics which are used by all 32 NFL teams and over 100 college football programs.
This agreement comes as PFF works to expand its offerings beyond its well-respected and innovative grades that are used by Teams and Agents in the NFL, NCAA, and CFL. By building out its B2C offerings PFF stands to obtain a unique and enviable position in the market, offering solutions across a variety of verticals.
"In our effort to improve our betting product SportsDataIO proved to be the ideal partner thanks to their comprehensive live betting data and box score statistics," George Chahrouri, Chief Experience Officer for PFF said. He continued, "As we evaluated the data market we found that SportsDataIO best met our needs from a coverage, technological and support standpoint. The fact that they were quickly and effectively able to add key data points to secure our relationship showed that they could be a tremendous partner now and in the future."
Dustin Sullivan, President of SportsDataIO added, "We are proud to be the data partner for PFF. Adding another marquee brand to our stable of clients reflects the growth of our company over the last 3 years. We look forward to working with PFF for years as they continue to grow their relationships with Teams, Agents, and Consumers alike."
Who Is SportsDataIO?
Originally branded as FantasyData LLC, the company was founded in 2008 and has grown to become a leading sports data company, providing real-time feeds across all major sports to both the fantasy and other industries. SportsDataIO covers all markets across all major sports and competitions.
Starting in 2013, SportsDataIO made a push into the global sports data market by launching new sports and more comprehensive coverage. Today, they provide general content feeds and industry-specific feeds custom-tailored for sports betting, fantasy, and fan engagement for all major professional and college sports, golf, NASCAR, top domestic & international soccer leagues, and esports.
Headquartered in Philadelphia PA, SportsDataIO is privately held and debt-free, servicing more than 200 clients globally from betting to fantasy and beyond.
Who Is PFF?
PFF provides exclusive player and game data to all 32 NFL teams, over 100 NCAA programs, and CFL teams. They also offer services for media companies and player agents.
STAY IN TOUCH
Sign up for SportsDataIO's newsletter and get awesome content sent to your inbox.
We'll never share your email address and you can opt out at any time, we promise.
---

Barry Golombek is a born and bred Philadelphian who has spent his entire life rooting for the Phillies, Sixers, and Eagles. Prior to joining SportsDataIO Barry managed Biz Dev for multiple Software Development Agencies. He is focused on provided key insight and white-glove service to his clients and wants to be seen as a partner in his clients' growth. When he's not slinging data Barry enjoys spending time with his wife and 2 sons (who have no choice but to root for all things Philly) and relaxing with his dog and 2 cats.