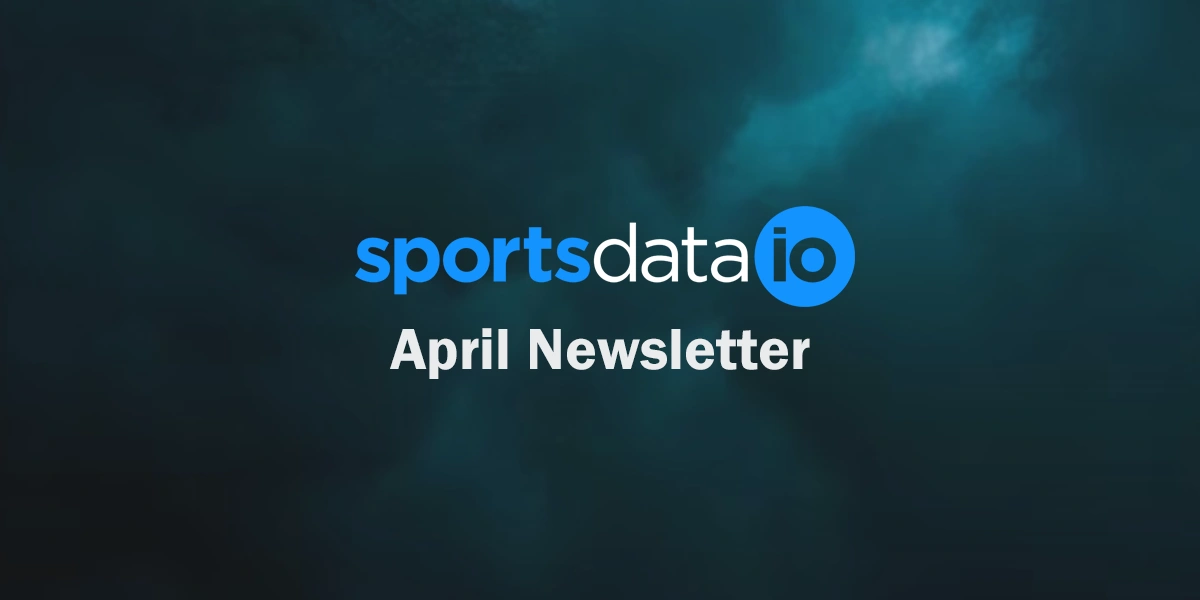 SportsDataIO: April Newsletter
---
What's New at SportsDataIO:
Our updated Tennis and NASCAR odds data are now live delivering real-time odds and line movement for ATP 500 events and NASCAR races. Aggregated Odds Coverage
New this MLB season SDIO MLB customers can now start resulting MLB markets via our settlement and resulting feeds.
BAKER Engine is here!
BAKER Engine is the most advanced sports prediction engine on the planet. It stimulates every sporting event 10,000 times down to the play-by-play level and lets you query it to find the answer to any question.
MLB BAKER products are now live for the 2023 MLB Season including simulation-based projections, best bets, and daily projections.
Check out our daily projections for the NBA playoffs and MLB regular season HERE.
Upcoming Sports Schedule Covered by SportsDataIO:
NCAA Basketball -
Men's Final 4 April 1st
Women's Championship April 2nd
Men's Championship April 3rd
Major League Baseball -
Opening Day March 30th + March 31st
MLB Regular Season
Golf -
Valero Texas Open March 30th - April 2nd
The Masters April 6th - April 9th
RBC Heritage April 13th - April 16th
Mexico Championship April 27th - April 30th
Tennis -
Rolex Monte-Carlo Masters April 9th - April 16th
Barcelona Open April 17th - April 23rd
Mutua Madrid Open April 26th - May 7th
National Basketball Association -
Final Week of the Regular Season April 3rd - April 9th
NBA Play-In Tournament April 11th - April 14th
First Round of NBA Playoffs Begins April 15th
Full NBA Playoff Coverage
National Hockey League -
Final Week of the Regular Season April 9th - April 14th
Full NHL Postseason Coverage Beginning April 17th
National Football League -
NFL Draft April 27th - April 29th
UFC and MMA -
UFC 287 April 8th
UFC Fight Night: Holloway vs Allen April 15th
UFC Fight Night: Pavlovich vs Blaydes April 22nd
Soccer -
Champions League Quarter Final April 11th - April 19th
Product Updates:
Updated Soccer V4 Endpoints
Clients can now isolate desired soccer league data (EPL, Champions, La Liga, MLS, etc.) via our Soccer endpoints without receiving ALL leagues on every call.
Expanded support coverage! Our support team has grown, and we have increased our weekend coverage and major mid-week evening events.
Expanded odds data coverage within our Tennis and NASCAR products!
MLB Player Status Update
We previously referred to a player's injured status as "Injury List", but to align with the MLB, it has changed to "Injured List". Below is a comparison of the old values (left) and the new values (right) that were updated on March 22nd, 2023.
"7 Day Injury List" --> "7-Day Injured List"
"10 Day Injury List" --> "10-Day Injured List"
"15 Day Injury List" --> "15-Day Injured List"
"45 Day Injury List" --> "45-Day Injured List"
"60 Day Injury List" --> "60-Day Injured List"
*If your platform is looking for a specific string value pertaining to injuries, you will need to change it to look for the new values.
---