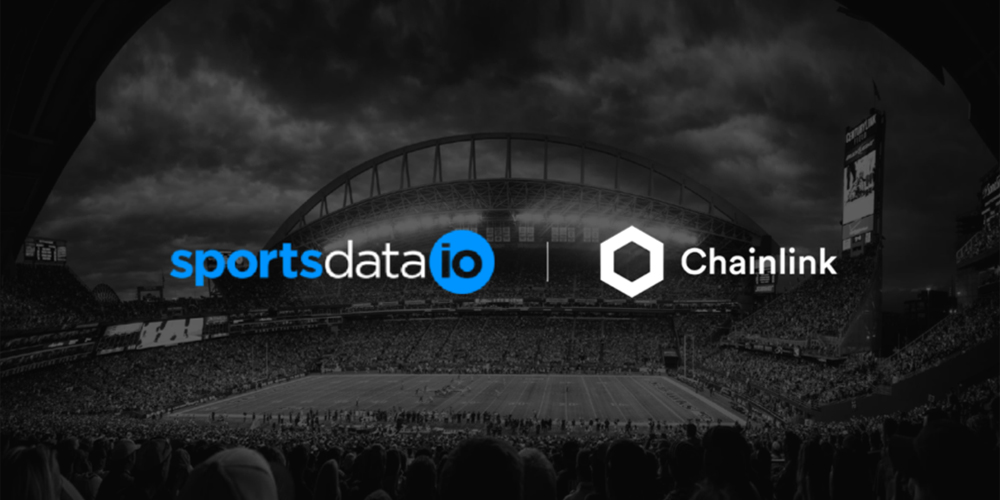 SportsDataIO to Supply Premium Sports Data to Blockchains via Chainlink Network
---
SportsDataIO is excited to announce that we will use Chainlink's market-leading decentralized oracle network to provide our premium sports APIs to smart contracts across leading blockchain networks. Chainlink enables us to use our existing APIs to supply decentralized applications with a broad range of sports events and individual player data, which they can use to automate actions on the blockchain such as settling prediction markets, assigning value to Sports NFTs, determining outcomes in Fantasy sports games, and more.
As a chain-agnostic oracle infrastructure that can reliably transmit data to any blockchain, Chainlink empowers us to securely feed our data to a whole set of new blockchain-based markets in a short amount of time with little integration overhead. The end result is SportDataIO being able to directly partake in the provisioning of decentralized sports markets that are provably fair and transparent for users.
Using the Chainlink Network to Expand SportsDataIO
SportsDataIO provides data about tens of thousands of sporting events each year. We serve all sports data verticals, including fantasy, sports betting, broadcast, media, and predictive modeling clients worldwide. Our team's commitment to high-quality data feeds across a variety of formats has earned us the FSGA Best Sports Data Providers award for 2018 and 2019. We allocate considerable resources to verifying and organizing sports data, as well as combine it with news and images sourced from our dozens of data partners to give applications highly relevant and engaging information.
We supply data within numerous categories, such as game scores, player stats, pregame futures, and moving in-game odds. In addition, we also provide fan engagement metrics and tools like trivia, secondary stats, and loyalty-based rewards. Bringing these premium data services to blockchains will allow a variety of smart contracts applications like a prediction market based on the winner of the World Cup, a sports-based NFT game tied to individual payer performances, or even a fan rewards program triggered when a team reaches a specific milestone.
While there are a number of interesting use cases, there is a fundamental limitation: smart contracts have no built-in capability to call external APIs. This lack of external connectivity often called the oracle problem, necessitates the use of an additional piece of infrastructure known as a blockchain oracle to bring external API data into blockchain networks.
As the most widely adopted oracle network in the smart contract economy, Chainlink was the natural choice for us as a way to supply blockchain apps with our sports data. Some of the unique advantages to supplying our data via the Chainlink Network include:
Blockchain Agnostic

- Chainlink provides us with a single gateway to sell our data to any current and future blockchain, without any modifications to our existing API infrastructure.
Large Market

- Chainlink is the most widely used oracle solution in the smart contract economy, offering a large and growing market of potential data consumers.

Time-Tested Infrastructure

- Chainlink is thoroughly audited open-source software that collectively secures billions of dollars in value on mainnet, proving its ability to protect and trigger the movement of real economic value.
We're excited to join the Chainlink Network as a data provider and be part of the next generation of decentralized sports applications built on blockchain. This is a great opportunity for us to sell our premium data on-chain to creative smart contract developers and projects, ultimately empowering them to build high-quality products that are reliable.
"It's always thrilling to see developers innovate product experiences when new technologies become available. Chainlink allows us to support the next generation of sports markets by providing a secure and future-proof middleware, ultimately enabling a whole new line of consumers to access our existing data APIs. Through Chainlink, developers will get industry-leading sports data with strong assurances of its integrity, paving the way for trustworthy and openly verifiable sports products to emerge," said SportsDataIO CEO Scott Gimpel.
About Chainlink
Chainlink is the most widely used and secure way to power universally connected smart contracts. With Chainlink, developers can connect any blockchain with high-quality data sources from other blockchains as well as real-world data. Managed by a global, decentralized community of hundreds of thousands of people, Chainlink is introducing a fairer model for contracts. Its network currently secures billions of dollars in value for smart contracts across the decentralized finance (DeFi), insurance and gaming ecosystems, among others.
Chainlink is trusted by hundreds of organizations to deliver definitive truth via secure, reliable data feeds. To learn more, visit chain.link, subscribe to the Chainlink newsletter, and follow @chainlink on Twitter.


Docs | Discord | Reddit | YouTube | Telegram | Events | GitHub | Price Feeds | DeFi | VRF
About Sportsdata.io
Originally branded as FantasyData LLC, the company was founded in 2008, and has grown to become a leading sports data company, providing real-time feeds across all major sports to both the fantasy and other industries. In recent years SportsDataIO has expanded their offerings to include aggregated odds data. By collecting and distributing odds from an ever-growing list of major North American sportsbooks SportsDataIO covers all markets across all major sports and competitions.
SportsDataIO was created by CEO Scott Gimpel out of necessity when a need for sports data feeds on a different project was met with a lack of market options and steep pricing for start-ups from incumbent competitors. Starting in 2013, SportsDataIO made a push into the global sports data market by launching new sports and more comprehensive coverage. Today, we provide general content feeds and industry-specific feeds custom tailored for sports betting, fantasy and fan engagement for all major professional and college sports, golf, NASCAR, top domestic & international soccer leagues and esports.
Headquartered in Philadelphia PA, SportsDataIO is privately held and debt-free, servicing more than 200 clients globally from betting to fantasy and beyond.
STAY IN TOUCH
Sign up for SportsDataIO's newsletter and get awesome content sent to your inbox.
We'll never share your email address and you can opt out at any time, we promise.
---

Barry Golombek is a born and bred Philadelphian who has spent his entire life rooting for the Phillies, Sixers, and Eagles. Prior to joining SportsDataIO Barry managed Biz Dev for multiple Software Development Agencies. He is focused on provided key insight and white-glove service to his clients and wants to be seen as a partner in his clients' growth. When he's not slinging data Barry enjoys spending time with his wife and 2 sons (who have no choice but to root for all things Philly) and relaxing with his dog and 2 cats.